Bengaluru
Bhopal
National Institute of Fashion Technology Bhopal organized CRAFT BAZAAR 2017 on 30th Nov. and 1st Dec 2017. It was arranged at present NIFT Campus located at Open Bhoj University. The objective of event was to provide a common selling and demonstration platform to various Handicraft and Handloom Artisans. Advertising was done on both days through prominent newspapers as well as by Flex and Poster Stands.
12 Artisans from, Chanderi and Maheshwar came with handloom sarees and dress materials for sale and exhibition while two Artisans from Betul brought Dhokra craft products. Lacquareware toys and Lifestyle products were exhibited by an Artisan from Budhni.
A Hand block printing product display and workshop was also organized by a Bhopal artisan for students, staff and visitors. It received appreciation from all visitors.
CRAFT BAZAAR was inaugurated by Campus Director with speech, while closing was done with felicitation to Artisans and organizing team. It was attended by HSVN representatives, guest faculties, and NIFT family.
The two day CRAFT BAZAAR, gave a good platform to artisans and students to interact and exchange design and craft knowledge and experiences. It received an overwhelming response from press, visitors as well as students.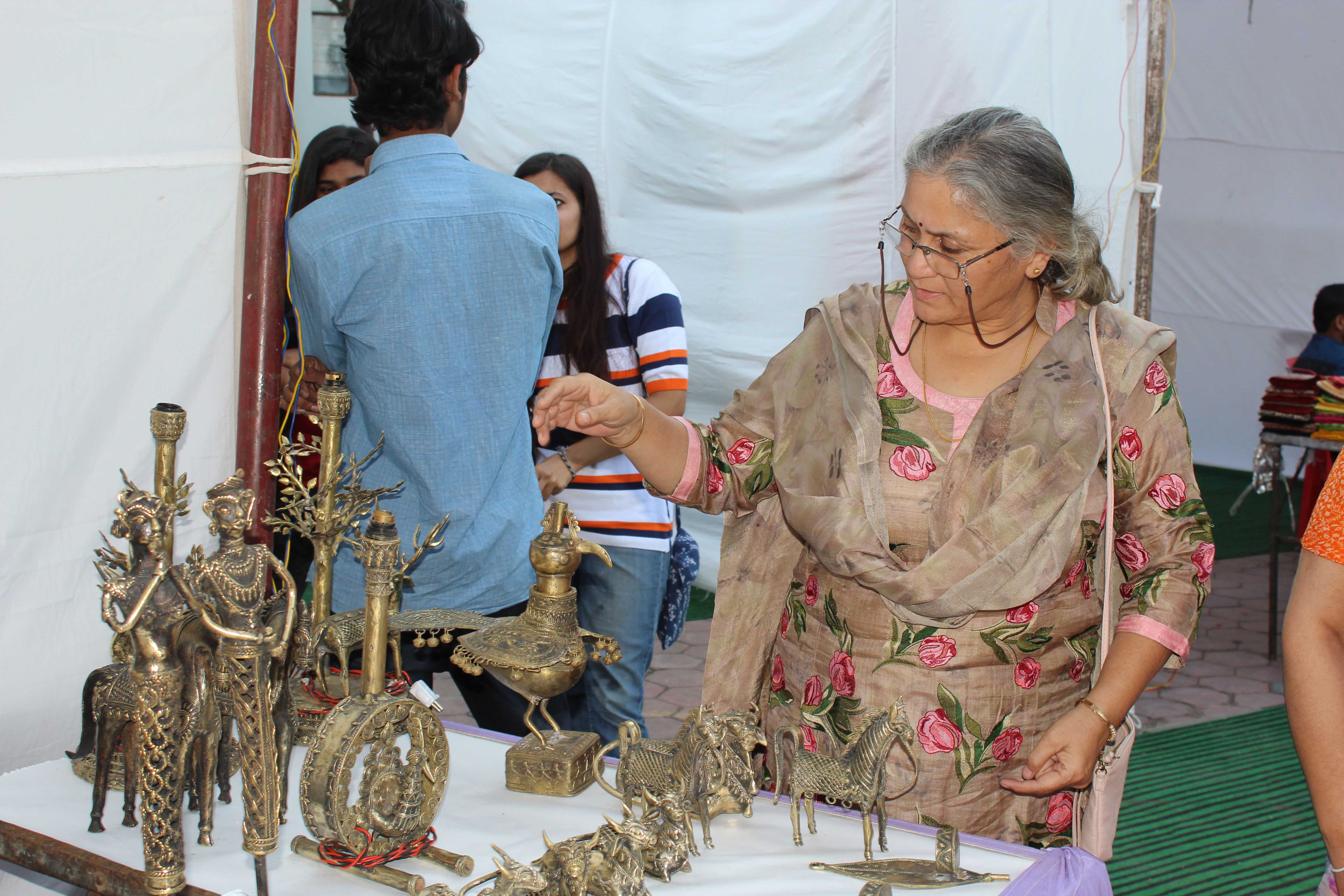 Bhubaneswar
Craft Bazaar is a successful innovation of NIFT to bridge the gap between rural craftsmen, urban affluent consumers and professional designers. NIFT Bhubaneswar's Craft Bazaar emerged as a sensation in Bhubaneswar as it brought 40 handloom and handicraft artisans and weavers (including National and State Awardees) of Nuapatna, Sonepur, Athagara, Makidia, Jajpur, Khandagiri, Kotpad, Dhenkanal, Nayagarh, Kanas, Raghurajpur , Puri and their range of craft and loom products in the campus to sell through 15 well organized stalls empowered by professional and aesthetic interventions of NIFT students. It was a real bonanza for Bhubaneswar consumers to buy original handloom/handicraft products talking to the artisans and getting their queries addressed by NIFT students. Students in the campus were exposed with the traditional knowledge and age-old craftsmanship that surely gave them competitive advantages in their respective careers. All the artisans felicitated by the National Awardee, Director, senior officials and faculty members of the Institute. In a nutshell, Craft Bazar created a real win win situation for all.
Gandhinagar
NIFT Gandhinagar organized "Craft Bazaar 2017" on 23 and 24 November 2017 to promote various crafts of Gujarat. Each departmentinvitedtwo craft clusters for participation in the exhibition and withtwo craftsmen per craft. The exhibition also maintained a balance between Handloom and Handicraft clusters for equal exposure to both.
NIFT Gandhinagar invited 13 craft clusters from all over Gujarat. A total of 26 artisans participated in the event. Arrangements for their lodging, boarding and local travel were completely undertaken by the Campus. Two student volunteers were nominated per craft to take care of logistic requirements of the craftsmen.
The exhibited crafts included:
Handicrafts – Agate Stone, Bead Work, Shibori, Block Printing, Puppet Making, Ajrakh and Leather Products
Handlooms – Kutch Shawls, Patola, Kala Cotton, Kharad Weaving, Tangaliya, Woolen Dhabla and Hand weaving Kutch Shawls.
The Textile Design department took the initiative of preparing the invitation card for the event.
Invitations were sent to alumni, other leading institutions faculty members, officers, staff, students and parents for generating interest in the event. The event was also given wide publicity in leading local English and Gujarati newspapers to create awareness about the event to the general public and provide a platform to the artisans for exhibition, demonstration and sale
The craftsmen exhibited a varied range of products in each craft;with an elegant mixture of various techniques like bandhani and shibori with ajrakh, tie and dye with woven shawls, etc. A vast range of product diversificationa like saris in tangaliya, bed covers in woven shawl technique, etc. as well as a wide range of products in diverse colour palletesappealed to the urban crowd. The intervention done by various designers, NGOs, students of design institutions, was clearly visible in the wide and diversified product ranges.
Wide publicity of the event ensured a steady flow of visitors on Campus. The event was so well received by the audience that NIFT had to extend the timing of the event for the first day. The total sale registered by the artisans in two days was approximately Rs. 5 lacs. Also, many of artisans got orders for delivering from their respective clusters directly. The artisans appreciated NIFT's efforts in organizing such an event to promote their craft. They suggested more such events frequently.
The artisans were also touched by the warmth and hospitality of the institution including all boarding, lodging and travel arrangements. They said that in future if the institute or its students need their help in any form, they would be most willing to extend their kind support.
The event was a good exposure to the students of the campus as students of various design and technology disciplines got to see all the crafts under one roof.
"Craft Bazaar" saw many craft enthusiasts visiting the campus and appreciating the good work done by the artisans and designers in the craft sector.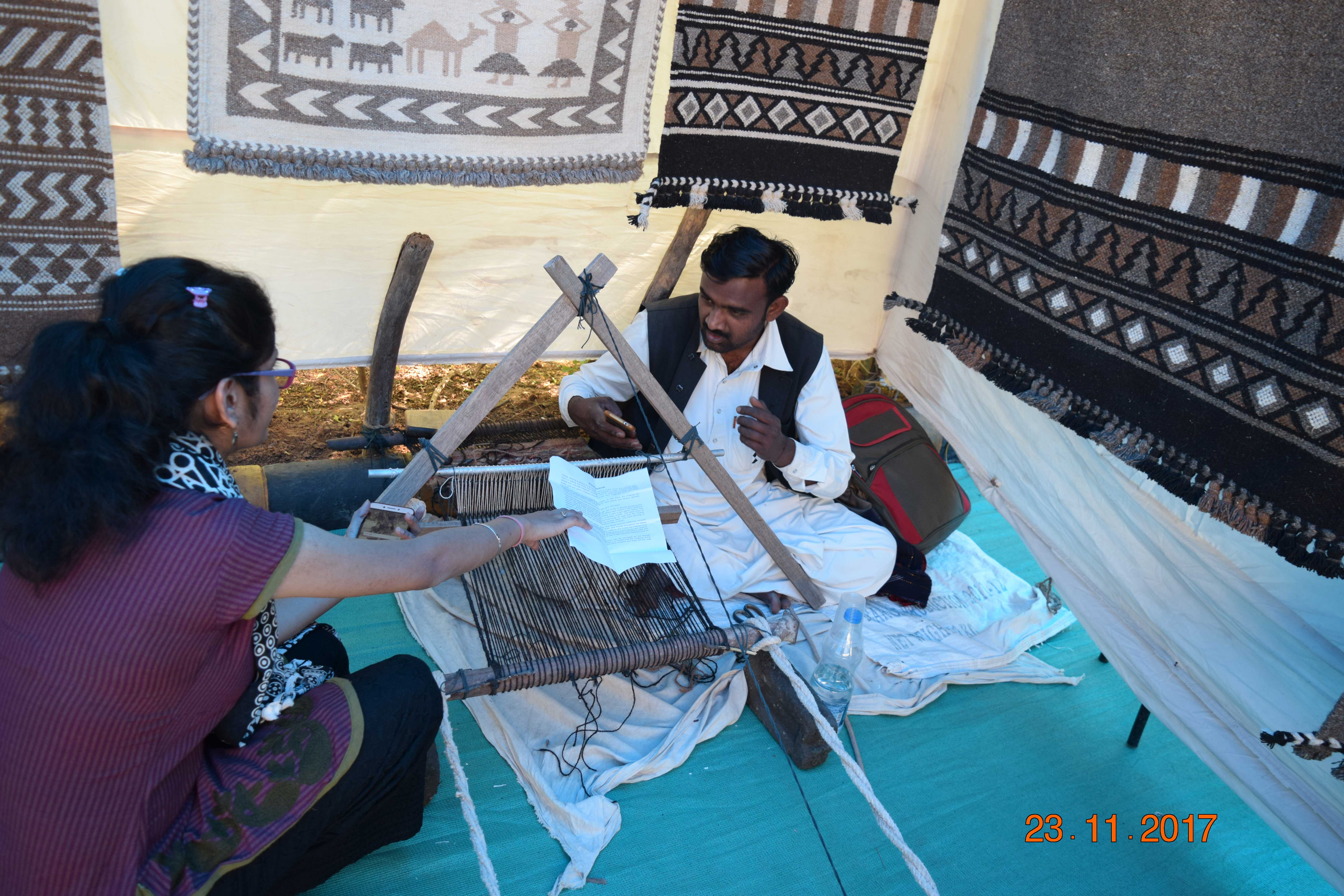 Hyderabad
Event Sarees of India Exhinition Hyderabad shilparamam
Kannur
Craft Bazaar Report NIFT Kannur
Kolkata
A Craft Bazaar was organised on 8th & 9th November, 2017 along with the Indigo Champaran Exhibition held at NIFT, Kolkata Campus on 8th November, 2017.
Craft plays an important role in our socio-economic life. We interact with craft every moment in our daily life in some ways or the other. Craft helps build creative capabilities of a person by fine-tuning cognitive as well as mental abilities. It instils, reinforces and consolidates 'cradle to grave' approach in students' perspective about designing a tangible outcome. NIFT, being a premier design institute, has formed a strong bond with different Crafts and its Artisans over the years.
West Bengal is aptly known as a hub of many traditional crafts and makes home for a wide number of eminent craft persons and skilled artisans in different craft clusters. NIFT, Kolkata being in the state, has the privilege to have direct access to this wide range of crafts and craft clusters (such as Shantipur-Phulia Handloom Cluster, Begampur Handloom Cluster, Kalna-Dhatrigram-Samudragarh Handloom Cluster, Barasat Kantha Cluster, Bolepur-Shantiniketan Kantha Cluster, Howrah Zari Cluster, Bishnupur Baluchari Saree Handloom Cluster, Pingla Patachitra Cluster, Dokra Craft Cluster, etc.) for exploration by our students. Students' visit and personal interaction with the artisans of different craft clusters provides them an in-depth understanding of the particular craft and helps them designing realistic solutions that translate into the sustainability of the craft and eventually the sustained livelihood of the artisans.
We, at NIFT, celebrate craft in many ways; by organising different craft cluster activities such as Students' Visit to the Clusters, Artisans Workshop, Demonstration Workshop, Product Diversification Projects involving our students, by having Craft Bazaar, Exhibition and Buyer-Seller Meet organised for Artisans for their market exposure and interaction the potential buyers.
This Craft Bazaar, held on 8th & 9th November, 2017, was an expression of our gratitude towards those artisans who not only put in their sincere hard work to help our students realise their unique potential and creativity but also create an emotional connect with it. This year we invited eminent craft persons and exhibitors to showcase their 'one of its kind' creations in our Craft Bazaar: They are as follows:
Begampur Handloom Cluster,

Shailpik, Sonarpur

Kalpana NGO, Kalna

Nasima Golder, Eminent Craft Person, Barasat

ManirulHaque, Eminent Craft Person, Bolpur

AIM, NGO, Kolkata

Weavers' & Designer - A Consortium of Weavers and Designers by WSC

Shunya Batik by Kartik Manna, Shantiniketan
This programme was organised in accordance with Travelling Indigo Exhibition, held at NIFT, Kolkata on 8th of November and continued till 9th November. This was attended by our DG Maám and Dean Maám while they were on their visit to inaugurate the Indigo Exhibition.
The exhibition was open to all. Faculty members, Staff members and their family members also visited the craft bazaar. Students of our centre were also invited to attend the exhibition and were encouraged to have personal interactions with the eminent artisans to have better understanding of the craft.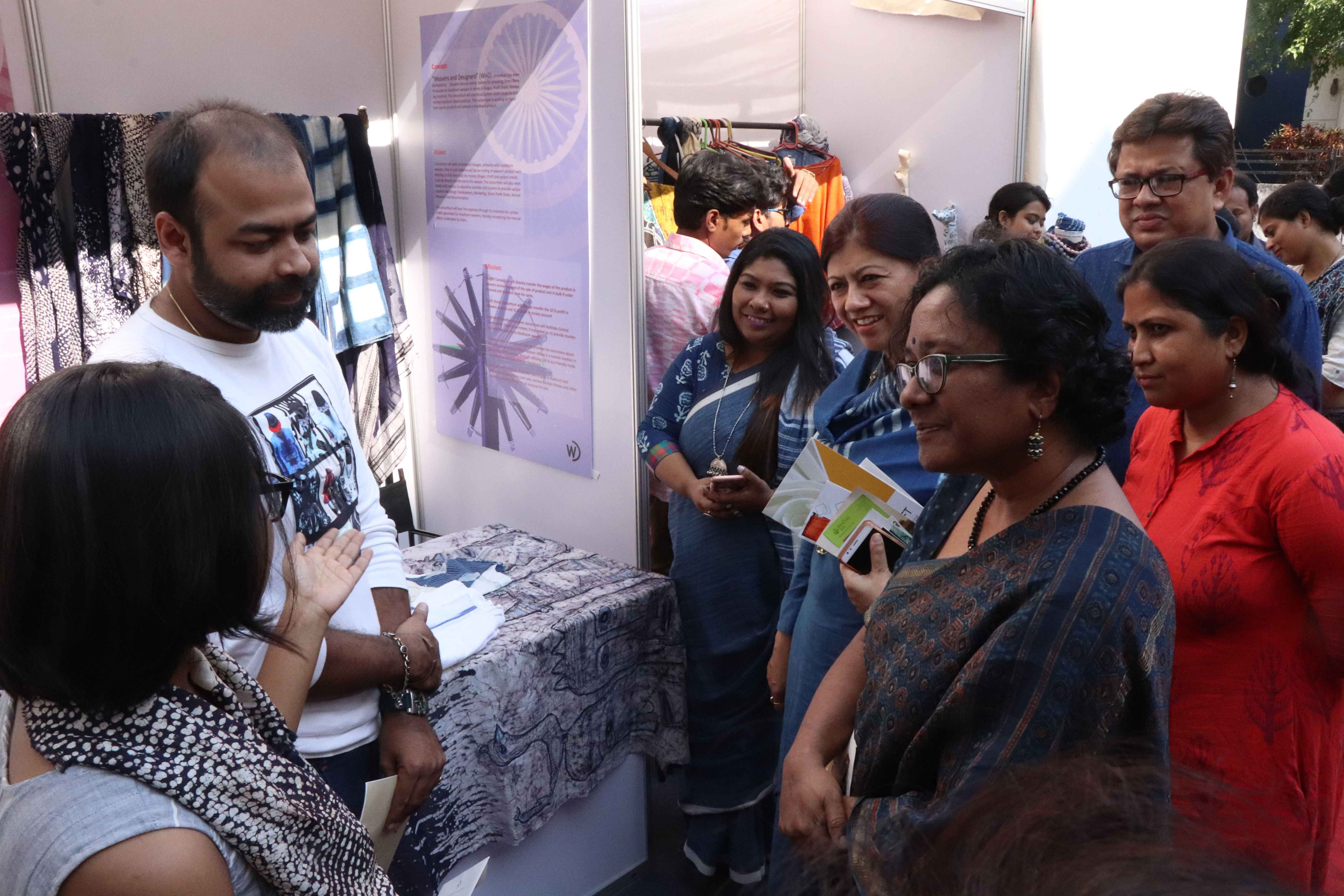 We are thankful to our DG Maám for encouraging us to organise this Craft Bazaar along with Indigo Champaran Exhibition. We are also grateful to our Dean Maám for granting us the necessary approval within a very short period. We heartily acknowledge the grant-in-aid, the Development Commissioner (Handloom), Ministry of Textiles, Government of India, has provided to NIFT. We also extend our gratitude to our Director Sir for his immense support and motivation to carry out this huge activity within a limited time. Last but not the least, we would like to thank the Organisers, The Craft Bazaar Team (Dr. Sandip Mukherjee and Ms. Ritu Malhotra), Ms. Sreenanda Palit (for the beautiful invitation card and banner for Craft Bazaar) and all the students 'volunteers without whose support, organising the Craft Bazaar would not have been possible. Thank you All. 
New Delhi
National Institute of Fashion Technology and Ministry of Textiles through its one of the department namely Development Commissioner Handicrafts signed an MOU. As per the craft MOU with Ministry of Textiles, NIFT has been assigned the task of helping the craft sector  (Including the craftsman/artisan) in order to make them sustainable and self sufficient.
In order to achieve the same, NIFT has to carry out a number of activities with an objective: -
To  Skill the artisans,

Upgrade the skills of the artisans,

Help them through product design,

To help them innovate the products,

To help them diversify the range of products,

To help them suggest different ways of promoting their products,

To help find a new avenue for increasing their revenue etc.
In line with the various planned activities, a Craft Bazaar was organized by NIFT Delhi on 21st - 22nd Nov, 2107. Wherein Artisans were invited from various identified clusters. The Artisan from Bikaner (Rajasthan), Akola (Rajasthan), Mubarakpur (Uttar Pradesh), Jawaja (Rajasthan) came and participated in the event. The Artisans showcased their Handloom & Handicraft products like Tarkashi products (Metal inlay in wood), Usta Art products, Hand Embroidered & Woven Sarees, Dupattas & Dress Materials, Block Printed Sarees, Duppattas & Dress Material to NIFT community & public at large. 
The Craft Bazaar event was given widely publicity by the efforts of the student community & faculty members. The event received very good response from the visitors, as good number of visitors visited the craft Bazaar. During the craft bazaar, the work of the artisans was appreciated by students, staff & faculty of NIFT and visitors from outside, who came to attend the Craft Bazaar.
Patna
Craft Bazaar was held at NIFT Patna from 18th November 17 to 20th November 17, a three day initiative to promote and facilitate the handicrafts and handlooms of Bihar.
The Bazaar was setup in the attractive premises of the NIFT Patna campus. It was an exhibition cum sale to endorse our craft culture aiming to cover the gap between the urban market and the traditional products. Around 55 artisans and weavers across Bihar came to NIFT Patna with all their enthusiasm to celebrate the rich craft culture and craft practises of Bihar.
The Bazaar comprise of 20 stalls of which 19 stalls were given to the artisans and weavers and one stall sold hand crafted diversified product range of NIFT Patna students. Various crafts like Sikki, Applique, Khatwa, Tikuli, Madhubani painting , Wood carving, Paper mache , Terracotta, Manjusha art, Sujani, Block printing and weaves of Bagalpur and Nalanda like Bawan Butti were sold in the craft bazaar.
Along with stalls, awareness workshops were held for the artisans and weavers on current designs and market demand, colour trends, tie and dye, digital marketing, online transactions, organized retailing etc to expose them to the demands of the urban market and means to meet those demands effectively. A special session was conducted for the artisans and weavers in the ongoing open house to introduce them to the admission process of NIFT.
NIFT Patna foundation students celebrated craft by interpreting it in a contemporary style through graffiti at the entrance area of the craft bazaar symbolizing that craft is a way of exploration, innovation and assembling knowledge through inheritance to reach a destination called culture.
Shillong