The Industry and Alumni Affairs unit facilitates various industry and alumni engagements. The main objective of the unit at the time of its setup has evolved from student placements to a multifaceted role including student-industry interactions like internships, alumni mentoring, classroom projects, graduation projects, and placements. The unit also functions to strengthen the alumni engagement with NIFT at different levels like guest faculty, experts, jury members, mentors, curriculum advisors, etc.
The unit is headed by the Head: of Industry and Alumni Affairs and is supported by two units in charge- Unit in Charge: Industry and Unit in Charge: Alumni Affairs. The Regional Industry Coordinator (RIC) at each centre spearheads the placement and industry engagement of students as well as alumni engagements at the respective campuses. Over the last few years, it has been a practice that centralized placements are held in campuses with increased industry presence namely New Delhi, Mumbai, Bengaluru, Gandhinagar, Kolkata, Chennai, and Hyderabad. To support the functions of the RIC, additional support of a Link RIC was approved by the competent authority for each centre with more than 180 students graduating yearly.
Campus Placements
The NIFT Industry & Alumni Affairs unit facilitates campus placements for the graduating students of NIFT to enable them to start their careers in challenging positions. The profile of the companies is expanding substantially within the design and fashion business. Vacancies have been generated across different industries like garment retailers, manufacturers, buying houses, IT and ITES firms, craft and design sectors, AI and Machine Learning Firms, FMCG, Jewellery & Accessory brands, publishing companies, and SAAS, allied industries, etc. Apart from the vacancies, the new area of placement generation for the last two years is ED Tech, FinTech, Content & News Aggregator, and Agri Tech.
Some of the leading National & International Companies that recruit NIFT graduates:
National Company List :
ABFRL
Amazon
Aquarelle India Pvt. Ltd.
Arvind Groups
Goldman Sachs
Itsy Bitsy Pvt. Ltd
Pratibha Syntex Ltd.
Black Mango Fashion LLP
Dream 11
Decathlon Group
Jaipur Rugs Company Pvt Ltd
Reliance Retail Ltd.
Actoserba Active Wholesale Pvt. Ltd.
Imagine XP
Infosys
Info Edge Ltd.
Incture Technologies
Himatsingka Seide Ltd
OLX
Melorra
Jay Jay Mills Pvt. Ltd.
Joker and Witch
Kripya Solutions Pvt Ltd
Skaid Designs
Lenskart
Laguna Clothing Pvt. Ltd.
Maruti Suzuki India Ltd.
Dorling and Kindersley Publishing Pvt Ltd
Modenik Lifestyle
Myntra
Titan Company
Ambattur Clothing Ltd
General Aeronautics Pvt. Ltd.
Blackberrys
Pratilipi
Reliance Brands Ltd.
Shiv Naresh Sports Pvt. Ltd
Ranger Apparel Export Pvt. Ltd.
Royal Enfield
Scaler Academy
Shahi Exports Pvt. Ltd.
Landmark Group, India
Simplotel Technologies Pvt. Ltd.
Rubick AI
Tata Trent
Texport Overseas Pvt. Ltd.
TCNS Clothing Company Ltd.
Navi Technologies Ltd.
Trident Limited
Tiivra Ventures Private Limited
Uniqlo India Pvt. Ltd.
Unthinkable Solutions LLP
Wolkus Technology Solutions Pvt. Ltd
Wipro
Zee Entertainment Enterprise Ltd.
International Company List :
Landmark Dubai
EPIC Group
Classic Fashion Apparel Industry Co, Jordan
Best Corporation Ethiopia
 
Sidney Apparels LLC
Target Corporation
Devji Aurum
Standard Carpet, Dubai
 
ALUMNI Network
NIFT has to its credit more than 38000 alumni since its inception in 1986, who are working in the design and the fashion industry in key decision-making positions and are instrumental in shaping the future of the fashion and design business as a change agent in India and globally.
NIFT alumni are known for their creativity, innovation, and business acumen. They have been instrumental in shaping the fashion and design industry, bringing new ideas and concepts to the table. They are working at various levels Country Heads, Creative Directors, Managing Directors, Marketing Heads, Fashion designers, Fashion Influencers, Brand Heads, Merchandising Heads, Fashion Editors, Quality Heads, Design Innovators, Academicians, Retail Operation Heads, UX, UI designers, Researchers, Head of Operations, Head of Planning, Sourcing Head, Head of Business Intelligence, Consultant, Graphic Designer, Content Developer, etc, in leading national and international organization. Some of the alumni have become renowned brands themselves. The design alumni have presented their work on the ramps of Milan, Paris, New York, and other fashion centres. They are also active in the fields of media and films. Alumni are also actively engaging themselves with different craft clusters and NGOs in India, working at the grassroots levels to provide design and technological support to the craftsman.
Illustrious Alumni of NIFT, to name a few:
| | | | | |
| --- | --- | --- | --- | --- |
| Abhishek Rastogi | Anjali Kalia | Atul Ujagar | Anavila Misra | Aneeth Arora |
| Anupreet Bhui | Devangshu Dutta | Divya Batra | Gaurav Jai Gupta | Gulshan Devaiah |
| Hemang | Harish Gupta | Jaideep Grover | J J Valaya | Kusha Kapila |
| Kirti Goyal | Kaustav Saikai | Manish Bajpai | Manish Arora | Nitin Mohan |
| Nidhi Dua | Narendra Kumar | Nitin Prasad | Pallab Banerjee | Pooja Kapoor |
| Prabal Gurung | Payal Pratap | Priyanka Pella Lama | Raghavan V Santhanam | Rakesh Ranjan |
| Rajesh Pratap Singh | Ritu Beri | Rina Dhaka | Sabyasachi Mukherjee | Sanjay Garg |
| Saikat Mitra | Shantanu Singh | Sangeeta Deewan | Sanjeev Mohanty | Samant Chauhan |
| Shivaji Dutta | Shantanu Goenka | Sneha Bhatnagar | Sunita Shanker | Suket Dhir |
| Shilpee Sharma | Sarvesh Shahdeo | Uma Prajapati | Wicrant Gambhir | Yogesh Kakar |
NIFT Alumni Association
The alumni association of any institution is a dynamic link between its past and present. In an endeavor to provide a platform for the alumni to share their expertise and knowledge, and forge an enduring relationship with their alma mater, the NIFT Alumni Association was set up in April 2002. An active NIFT Alumni Association strives to achieve the following objectives:
· To promote and foster mutually beneficial interaction between the alumni and present students of NIFT, and within the alumni network itself.
· To encourage the alumni to take an active interest in the work and progress of NIFT so as to contribute towards the enhancement of their alma mater.
· To organize and establish scholarship funds to help the needy and deserving students.
· To interact closely with the industry and the Institute in order to make NIFT education responsive towards industry needs and technological advances.
· To institute prizes and awards for outstanding project work, research paper, or other professional activity by NIFT students, and also suitably recognize outstanding social and community service by the alumni and students.
· To undertake or organize activities of a civic, charitable, or promotional nature.
NIFT ALUMNI MEET
Alumni Meets:
Alumni are the best assets of an institute. Maintaining and strengthening the relationships with alumni is imperative. A healthy alumni relationship brings many benefits to both the institution and the alumni. This year Alumni meet was organized in 12 NIFT campuses to reconnect alumni with their alma mater.
Alumni Meet by NIFT Bengaluru
NIFT Bengaluru celebrated its 38th Foundation Day by hosting an Industry and Alumni Meet themed 'Room of Ideas' on 21st January 2023. The event focused on the potential in Digital Recalibration and Sustainability First. The interface between industry and academia sparked a fruitful discussion on several intriguing concepts, such as circularity and the integration of technology in design education. Furthermore, the industry leaders emphasized the importance of Purpose-Driven Talent in the modern age, which emphasizes the alignment of an employee's values and aspirations with those of the organization.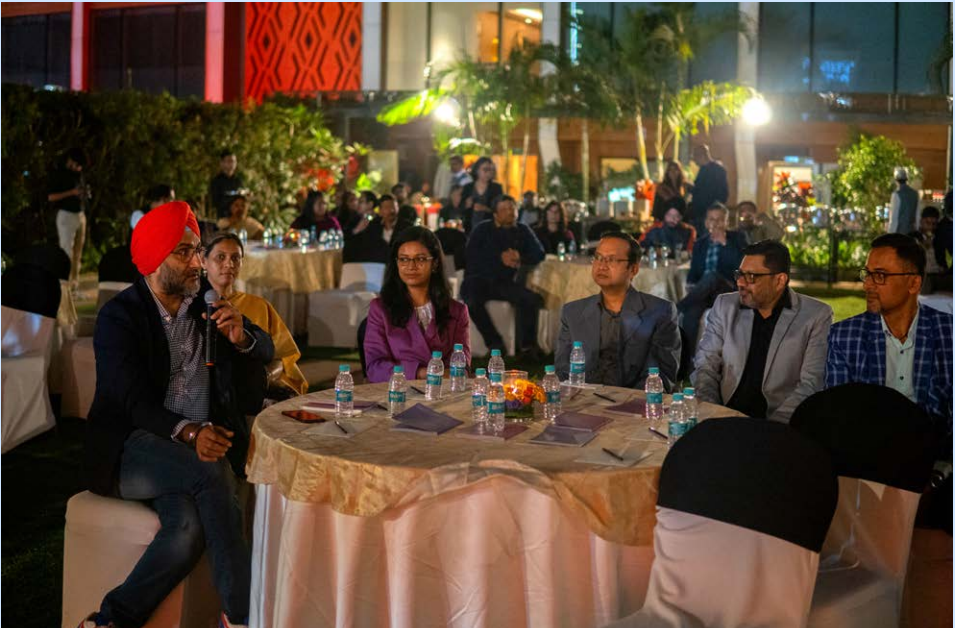 Pic: Industry and Alumni Meet by NIFT Bengaluru
Alumni Meet by NIFT Delhi
The NIFT Delhi alumni meet held on March 17, 2023, was attended by 282 alumni from various batches. The evening began with a cordial welcome from the Director, which was followed by an engaging panel discussion entitled "Fashioning the Future with Threads from the Past." NIFT's esteemed founding members, including Ms. Asha Baxi, Dr. Dalrie O. Koshy, and Mr. S. Ramalingam, as well as founding-batch alumni Mr. Devangshu Datta, Mr. Satish Nayak, and Mr. Kevlin Nigli, were the esteemed panel members. The panel discussed industry challenges and NIFT's future-shaping function.
Pic: Alumni meet by NIFT Delhi
Alumni Meet by NIFT Hyderabad
"A talk on Digitalization, Innovation, and Entrepreneurship: Pillars of Indian Economic Growth" was organized on 29th October 2022, at Shilpa Kala Vedika, Hitech City, Hyderabad collaboratively by FDDI, NIFT, IIFT, and IIP. During this event Hon'ble Union Minister of Finance & Corporate Affairs, Smt. Nirmala Sitharaman & Hon'ble Minister of Commerce & Industry, Minister of Consumer Affairs, Food & Public Distribution & Minister of Textiles Shri. Piyush Goyal graced the occasion. The event was followed by an alumni meet of the NIFT alumni at the Hyderabad campus
Alumni Meet by NIFT Jodhpur
On January 27, 2023, NIFT Jodhpur organized the Alumni Meet-2023 with Mr. Prem Kumar Gera, I.A.S. (Retired), as the Chief Guest. The event witnessed many competitions and events for the alumni that culminated in a cultural program.
Alumni Meet by NIFT Kangra
NIFT Kangra held an alumni meet on 4th March 2023. A total of 40 alumni from various batches have come for meet and shared their experiences with their fellow alumni, faculty, and juniors. The alumni meet was held during the annual event "Spectrum".
Alumni Meet by NIFT Kannur
NIFT Kannur's alumni meet- 'Retrace 2022' held on the 12th of November 2022 had a total of 104 Alumni. It was a first-ever alumni meet by NIFT Kannur. The meet was presided over by Shri. S. Chandrasekar, IAS, the district collector of Kannur.
Alumni Meet by NIFT Kolkata
NIFT Kolkata Alumni Meet was held on 18th March 2023, with the participation of 142 alumni from different batches. The evening featured a curated cultural program by the current students followed by some fun quizzes, games, and an alumni-led panel discussion. The event highlighted the significance of alumni collaboration with NIFT for mutual development and advancement.
Alumni Meet by NIFT Mumbai
NIFT Mumbai's Alumni Meet, 'Rendezvous 23', was held on 1st April 2023. More than 150 alumni from the past three decades attended the reunion and cherished their return to the NIFT campus. Alumni reminisced about their time at NIFT, retold stories, and toured the campus while reminiscing about their undergraduate days. As a tribute to their presence on campus that day, the students of NIFT Mumbai carried their inscriptions down the runway at the conclusion of the fashion show.
Alumni Meet by NIFT Panchkula
NIFT Panchkula organized their alumni meet on 4th November 2022 in an online and offline mode that led to some constructive discussion for the advancement of the institute, its students, and the alumni.
Alumni Meet by NIFT Patna
NIFT Patna held its alumni meet on the campus on 2nd December 2022. The Alumni meet strengthened alumni links, recognized achievements, updated databases, and explored engagement opportunities. The faculty warmly welcomed NIFT alumni from all campuses. The alumni networked over high tea, toured the campus, and recreated memories.
Alumni Meet by NIFT Raebareli
NIFT Raebareli's alumni meet was held on 21st October 2022. The students prepared flash mobs, concerts, and Rock Band performances to welcome the alumni.
Alumni Meet by NIFT Shillong
NIFT Shillong's alumni meet was conducted on the 14th of October 2022 in an online and offline mode. The meet triggered a sense of belongingness among the alumni of the alma mater.
NIFT's Newsletter "We Connect":
"WeConnect" is a quarterly digital newsletter that aims to connect the institute with its alumni and industry partners. The heart and soul of this Newsletter are the alumni and the industry partners who play an integral role in the success of this institute. It's a platform to celebrate the journey, achievements, and stories, industry insights from our alumni, industry partners, students, faculty, and everyone in the ecosystem.
Under the section Campus News, the newsletter will keep everyone in the ecosystem informed about the recent developments and initiatives of every NIFT campus.
The maiden issue of the NIFT Alumni Newsletter was unveiled by Shri. Piyush Goyal, Hon'ble Minister of Commerce & Industry, Consumer Affairs & Food & Public Distribution and Textiles, Govt. of India with Smt. Rachna Shah, IAS, - Secretary, Ministry of Textiles & Chairperson, BOG-NIFT, Shri Rohit Kansal, IAS - Director General, NIFT, Prof. Dr. Sudha Dhingra, Dean Academics, NIFT and Prof. Dr. Pavan Godiawala, Director, NIFT Mumbai during the Convocation Ceremony held at NIFT Mumbai on 24th February 2023.
Pic: Unveiling of the NIFT's Newsletter: Weconnect
Downloads